Richard Powers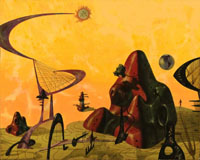 What would a Martian's dreams be like? Well, if there were (are, will be) Martians and assuming that they could dream, their dreams would most likely be like Richard Powers' paintings and illustrations for science fiction publications. Powers' illustrations introduced the subconscious fantasies and dream-states of the surrealist art movement to its ultimate partner, science fiction. In doing so, he revolutionized the entire field of science fiction illustration, spurring record sales for his first steady client, Ballantine Press, and spawning countless imitators.
Born on February 24, 1921 to a devout Catholic family, one has to wonder if early impressions of Catholic mystical images of heaven, hell and the apocalypse influenced Powers' later work. One might think otherwise though, because while he continued to be a practicing Catholic throughout his life, his gay sociability, quick temper and rye, sharp wit, pointed toward a unique personality unencumbered by Christian neuroses. More than anything, Powers was influenced by the surrealist painters of the early to mid-20th century -- particularly Max Ernst, and the unique style of Paul Klee. However, putting too much emphasis on those who influenced him does not do justice to his own experimentation and efforts to create a style that was uniquely his. While illustrations for science fiction covers paid the bills, Powers considered himself foremost to be a serious artist. His success as an illustrator brought him more commissions than he was willing to take, as he preferred to devote as much time as possible to his fine art.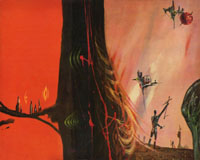 As mentioned, Ian Ballantine was the first publisher to recognize Powers' genius. Ballantine engaged him in 1953 to do the now famous paperback edition of Arthur C. Clark's Childhood's End. While never a great fan of science fiction, Powers nonetheless found endless inspiration in this genre, and single-handedly revolutionized science fiction illustration. Until then, science fiction illustration had consisted mostly of conceivably realistic representations of alien worlds, but Powers unleashed subconscious imagery that explored the endless possibilities of speculative fiction. Over the course of his almost 50-year career as a science fiction illustrator, he produced an estimated 1,400 illustrations.
Contrary to what one would expect from such a seemingly visionary artist, Powers was also a writer of children's books and a keen sportsman, playing semi-pro baseball until a potentially career threatening hand injury forced him to change to become a highly competitive tennis player. His quick temper was evidenced in his poor sportsmanlike behavior on the court when he would lose - presaging such tennis bad-boys as John McEnroe. One person in particular who incited his wrath was Richard M. Nixon. His son wrote that, "He loathed Nixon as soon as he learned he existed."1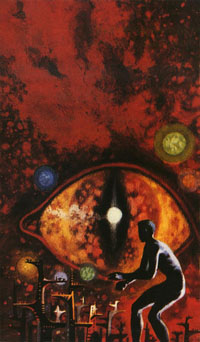 Another one of his detestations -- Pop art, inspired a continuing example of his keen sense of humor. In the early 1960's, he began signing his paintings "Powers LAZ/org" which stood for the Lazarus Organization. LAZ/org was a fictional organization created by Powers to lampoon the "artists" associated with the Pop art movement. He would hand out brochures at his gallery shows (which occurred yearly at the Rehn Gallery in New York), describing such pseudonymous contributors as "Lemming Legal Phleeble, whose 'Newsculp' technique involved wrapping models, wax-museum style, in gauze and plaster, [who] was George Segal."2 He also used the LAZ/org signature to differentiate his illustration from his fine art work.
Always the experimenter, Powers not only incorporated the aforementioned surrealism into his work, but also included other techniques such as collage with torn paper, found objects and other sculptural elements in his work. Toward the end of his life, he created dioramas which included wire frame figures and cut-down earlier paintings. Art was never sacrosanct to Powers, but was a way to indulge in his fertile imagination. We're sure that his art will inspire you as well.